Welcome to the official homepage of the Elizabethan Madrigal Singers–more affectionately known as "Mads." Formed in 1950, Mads remains Aberystwyth University's longest running society. Since its infancy, this auditioned group has become the university's prime chamber choir, boasting of a rather prestigious and extensive history. Each year, hundreds of ex-Mads organize a reunion event taking place in Aberystwyth, inviting the current choir along for a weekend of choral workshops and classes.
Meet The 2021-2022 Committee!
Conductor and Treasurer – Christian Berlin
"Hi, I am honoured to be the conductor and treasurer of this lovely choir for the next year and I'm looking forward to welcoming both current members and new singers to a year of good music, singing-joy and lots of fun! I'm a second year student in Human Geography and have a strong passion for music. Since I was seven I've always sung in a choir, along with playing violin which I am receiving a scholarship for from the university. I have also taken various conducting classes and studied conducting for a year through a talent program at the Norwegian academy of music. If you like a rich repertoire and have a passion singing, the MADs Is the place for you!"
President and Assistant Conductor – Ishbel O'Brien
"Hello, I'm Ishbel, and I study International Politics and Military History. I am so excited to be President and Assistant conductor this year. I've been taking classical singing lessons since I was 6 and have always enjoyed performing in various choirs and ensembles. Especially in wonderful locations such as the Royal Albert Hall. Mads has been a highlight of my week since first year and I look forward to welcoming others into the choir. I am so excited for the upcoming year and sharing the 70+ years of Mads traditions with new members."
Secretary and Wellbeing Officer- Helen Flower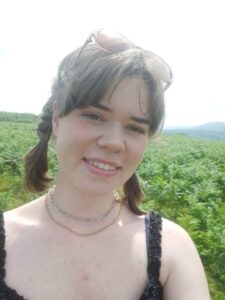 "Hi, I'm Helen, and I study Art History at the School of Art. I have been singing with Mads since 1st year; I am now in 3rd year. My musical background is singing with my local cathedral choir and having singing lessons on and off since I was 14. I have also played the violin since I was 7. I am really happy to be part of committee this year, at the heart of a choir with 70+ years of history and with many years of tradition to uphold"
Mads performs from a vast collection of repertoire, ranging from sacred pieces to folk music, as well as the madrigals you might expect. Alongside singing in and around the town of Aberystwyth, Mads go on tour every summer to various international locations, performing in UK-based festivals and competitions all through term-time. Furthermore, Aberystwyth University invites Mads to perform at its graduation ceremonies every year, including a traditional performance of Laudate Nomen Domini for the Vice Chancellor's luncheon.
Our Mission:

The Elizabethan Madrigal Singers shares our passion for choral music with the Aberystwyth community and surrounding region through performances that exemplify music's unique power to touch the human heart and mind.
As a small chamber choir ensemble, we offer outstanding performances of diverse repertoire reaching across genres, time periods, and cultures–specializing in early Renaissance madrigals–and bringing to varied audiences a deeper understanding and broader appreciation for choral music.

Vision:

The Mads will be recognized as Aberystwyth's premiere chamber choral ensemble. We will be valued for our commitment to enriching the cultural landscape of Aberystwyth and the surrounding area, our connectedness to the Aberystwyth community, and our dedication to innovative collaboration with artists or other musical groups to bring unique and varied musical experiences to our community.

Values:

Musical Excellence–We strive to engage in performances of exceptional quality across a broad spectrum of musical periods. We value excellent musicianship that includes interpretation of the text, context of the music, and intent of the music to convey emotion as well as technical skill.
Connectedness–In order to create a unique shared musical experience from which every participant benefits, we value connecting with each other, our collaborators, our audiences, and the broader community.
Passion–Our passion for musical expression starts with each other during the process of concert preparation, and we strive to communicate that experience and energy to our audiences during performances. We want to reach, inspire, and engage our audiences through exploration of a wide range of emotions and musical histories. We want our audiences to feel entertained, moved, exhilarated, and impressed.
Legacy–We contribute to the enduring legacy of choral music for current and future generations and promote appreciation of choral music as a distinct art form. And lastly, we hope to put the Old College on the map once again for university students to love, participate in, and appreciate as a musical hub in the small coastal town of Aberystwyth.